Summer irritations sending your horse into an itching frenzy? As horse owners, the summer months bring all kinds if new problems for us but, what if you could help support your horse's immune system to effectively help them combat these risks?
Does your horse suffer from the following?
- MUD FEVER (Scratches, Greasy Heel or Pastern Dermatitis)
- HIVES (Urticaria)

- ALLERGIES (Pollen, Fly Bites and Dust)
- SWEET ITCH (Summer itch, Insect Hypersensitivity or Queensland Itch)
- BREATHING DIFFICULTIES
- HEAD SHAKING
- PHOTOSENSITIVE (Sun Burn, reddened and crusty skin)
- INFECTED WOUNDS
- FOOT INFECTIONS
- RAINROT (Rain Scald)
If your horse suffers from any of the above, why not take a look below at what just some of our customers have experienced too!
WARNING: Graphic images below.
Fightback for sweet itch has worked wonders.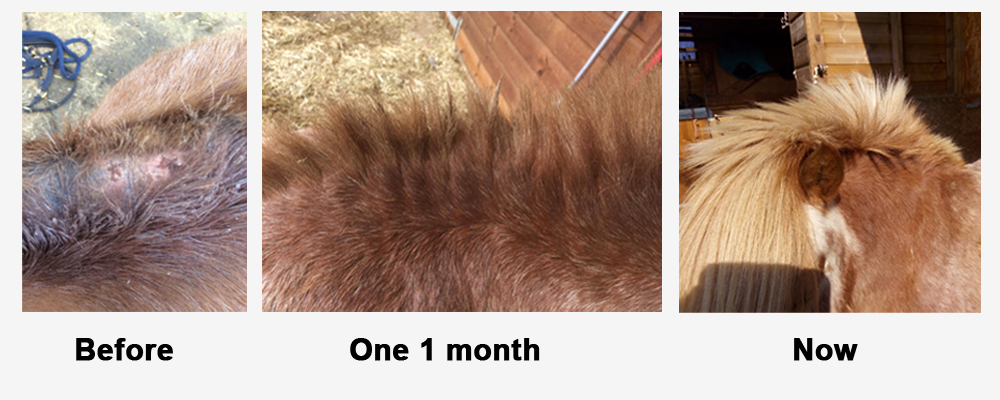 I've never been able to grow his mane and tail. He used to rub it raw and I had to electrify everywhere - including the walls of his stable to prevent further sores.
This is him now. This winter I've not needed too! I can even turn him out with the others, without him destroying posts and trees!
Susi and Bruno
"One of my horses Delboy is currently turned away for the winter living out 24/7 (at the moment in a flooded mud bog thanks to the weather). 5 weeks ago he had a swollen right hind and ... I discovered scabs on all four legs.
I started the conventional treatment of scissors, hibi scrub and sudocream. Thankfully next day leg back to normal size. But there was no way I could continue to treat this literally knee deep in mud, in the wind and pouring rain, in the middle of a 10 acre field with 10 other horses trying to eat my towels.
A friend suggested, as EquiFeast CC&C had worked so well for my horses brains, why not try EquiFeast's Fight Back. Since then the weather has got even worse and I have not been able to actually see below Dels knees for three weeks as the mud is that deep. But no swellings told me things hadn't deteriorated and I just had to pray Del could hold out till the weather and field improved. Yesterday some of the field had drained and I could walk Del through the river to wash the mud off, onto a drier bit. Unbelievably only half the scabs are still there and the ones that are left are half the size they were, not sensitive, pink and weepy, but almost gone. AFTER 5 WEEKS OF STANDING IN MUD UP TO HIS KNEES WITH NO TREATMENT. Just Fight Back in his daily feed."
Tracey - Delboy
One week after starting the course of Fight Back I am amazed. The improvement in such a short time! No, I am staggered and very excited!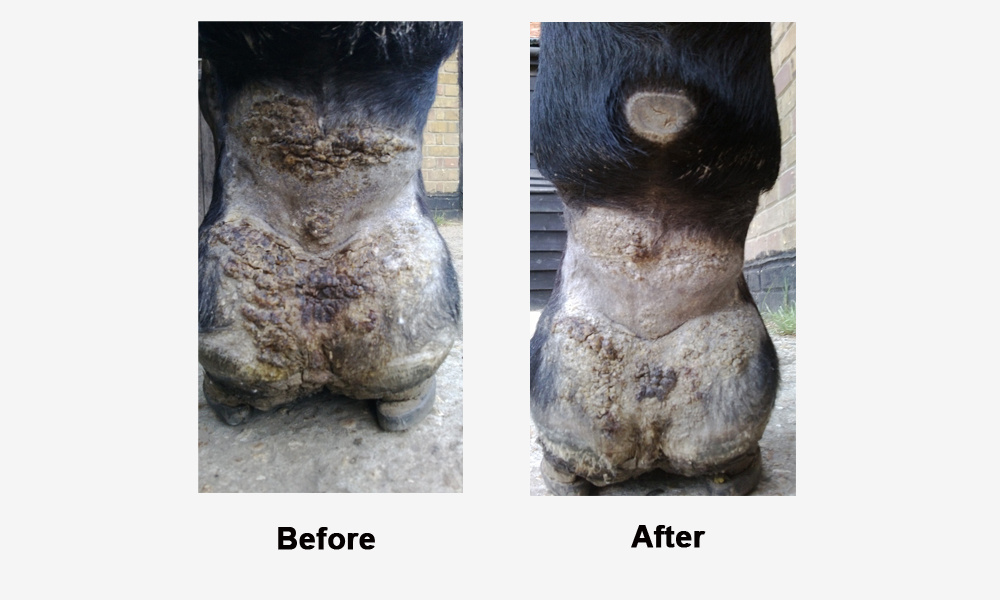 I must say I am thrilled with how things are going… I will also add that you have done a marvellous job with making the Fight Back very palatable. Bailey isn't particularly fussy but you know horses will always sense something different in their feed, but not so much of a sniff even at the beginning, now he will lick his bowl clean. I must say that the human beings that have had a sniff think it smells nice too !! – (and no, they haven't tried it).
Sue, UK
Adding an immune support supplement to your horses diet can help. For more ways of how to avoid mud fever, read our article: SEVEN WAYS TO HELP COMBAT MUD FEVER.
I can safely say Fight Back will be something I reach for first in the future rather than steroids, I can't thank the team enough for their help and guidance over the last couple of months and the wonderful product I have my boy back in tiptop health and happiness.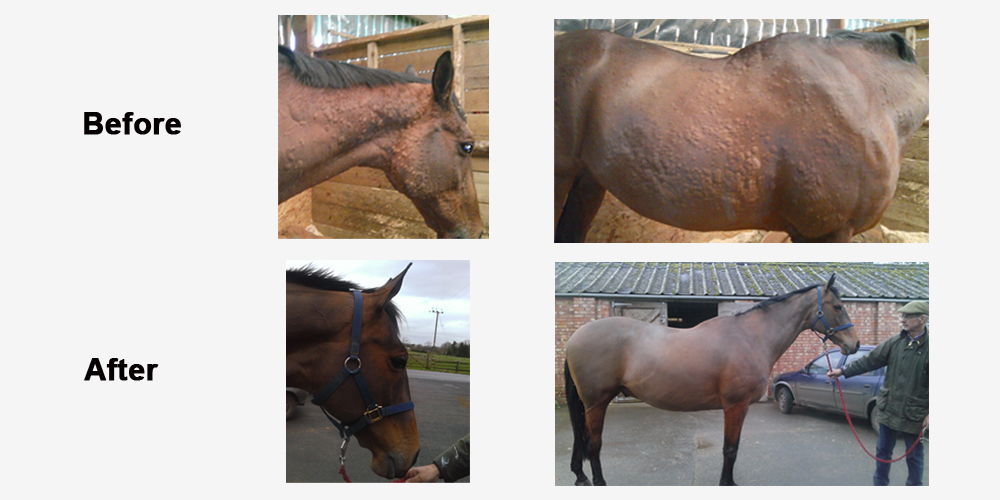 I rang the team at EquiFeast and they explained all about the Fight Back and the dosage he would need and said it would be in the post straight away, thankfully it arrived 48 hours later. Freddie had the supplement twice a day everyday gradually over the next few days the swelling reduced and by the tenth day his spots started to reduce too. By the third week we were spot free!! But also heading to the last two weeks of supplement so I rang the team again they were very understanding about my anxieties over him coming off it so said the best thing to do was to get to the end of the first pack and start another five week course doing the first two weeks at the same level as before but then go to half the dose and see what happened.
Thankfully nothing bad happened he stayed spot free and very happy all over Christmas. Our vet was amazed by it, as were several friends. We are now reaching the end of January and he's been reduced even more to a quarter dose. We are totally free from any sign of anything he's back in work and feeling very well.
Happy boy= happy mummy!!
Jo and Frankie
'Fight Back saved my horses life!!'
'My horse is allergic to alfalfa, brome, wheat, corn, weeds willow and oak, 29 out of 60 things tested on her labs. She is also PSSM1.
I live in Alaska and the bugs make her welt. She would get horrible hives, and that's just what we can see! They get them inside too.
I had tried everything. Dex only worked while she was taking it and continuous steroids create their own issue. I was really thinking I would have to let her go. Her misery was just too much.
That's when I came across an ad for Fight Back. It has my hail Mary last ditch effort.
She has gone a full year with no hives! It took a little time to figure a maintenance dose. But we have her allergies under control! I tell anyone and everyone with horses that get hives to give it a try! '
"This is River, an Australian Stock Horse and he is 17 this year. I have had him since 2009. I moved from WA in the Kimberley to Kingaroy Qld 6 years ago. Approximately 2 1/2 years ago he developed an allergy particularly in his mouth which is swollen from the allergy. He has been diagnosed with "Equine Eosinophilic Granuloma Complex" (apparently more common on the body)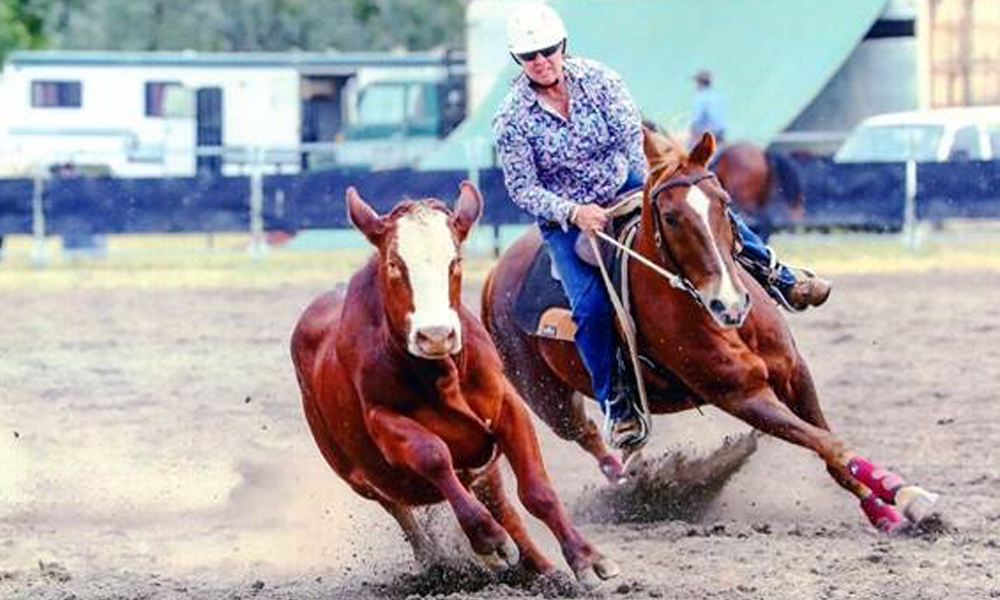 We tried herbs, then took him to Gatton University where they prescribed steroids and said go find what he is allergic to. Sadly, we couldn't find what the trigger was but now his immune system is so compromised from long term steroid use that pretty much anything can be the possible cause of flare ups. I enlisted a holistic practitioner who developed a plan which looked like it might work but I was still relying on the steroids and he was at risk of developing Cushings as a result of this.
I had got to a point of seriously considering putting him down due to cost and the steroids were going to kill him and Fightback was my last resort after throwing an awful lot of money at him already. I found Fight Back in October 2017. This truly was his last chance.
Initially all his hair fell out as I reduced, then stopped giving the steroids in the first month. He has only ever needed one steroid shot since starting Fight Back and that wasdue to a run in with I believe was a hairy caterpillar!
He still displays signs of the allergy as his body has never been able to get him back to normal and struggles to heal (due to long term use of steroids) but he is now back Campdrafting and doing well. His mouth is most affected by this allergy and sometimes flares up so I just double the dose of Fightback on these occasions and he returns to his normal. He also looks great for his age too!
I am so glad it has helped though I feel he will be on it for the rest of his days as not game to take him off it. I have never found what causes his allergy!''
Marg Pryer and River
As a four year old, Hedonist (pictured) arrived at her new home with a big belly, no muscle and a number of skin allergy problems. She also had some behavioral issues and was part of a trial of a new supplement system for performance horses. Within a week her allergy problems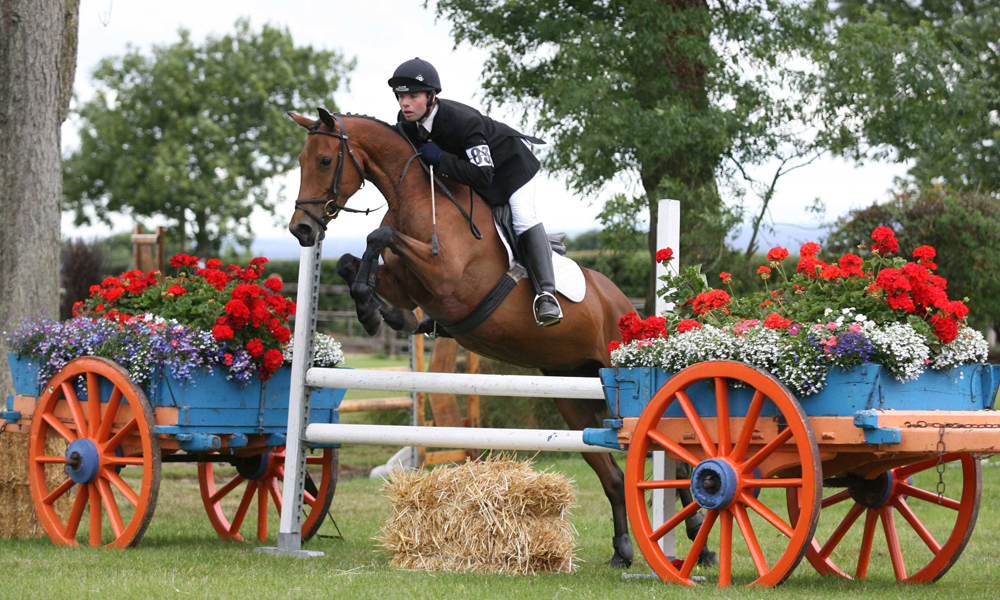 virtually disappeared and this was credited to the unusual immunsupport ingredients incorporated in this product formulation.
Trials on other horses in the UK and Australia have supported the
conclusion that this simple nutritional technology is of benefit to other horses with histories of a variety of allergy problems.
The immune system support ingredients are purely nutritional and are added to the feed on a daily basis as a supplement called Fight Back.
Janie and Hedonist
Hawkesbury event rider amazed by allergy product (sound needed)
John Twomey and Tessa "Within one tub we saw a really big improvement... she has been clean for weeks now"
Related articles:
Horses and their immune system
Readers in the UK - please click here for more information
Readers in Australia - please click here for more information
Readers in USA - Please click here for more information