A chelated calcium horse calmer, for focus and concentration without sedation.
The key active ingredient in Cool, Calm & Collected is chelated calcium which supports normal neurotransmission*, this aids better risk analysis and decision making. This product also contains Tyrosine, an amino acid that serves several important purposes in the body including the creation of dopamine. Tyrosine only has a relatively short term effect and is only valuable if the horse risks becoming tyrosine deficient due to stress. See below for information about tyrosine and horses with EMS, IR or PSSM.
Cool, Calm & Collected behavioural supplement helps with:
Spookiness
Anxiety
Overreacting
The Cool, Calm & Collected Starter Pack is magnesium free as standard. If your horse has not used one of our products containing chelated calcium before, or hasn't had chelated calcium for over two weeks, a Starter Pack is required.
Click here to read more from some our customers about how Cool, Calm & Collected has worked for them.

Magnesium FREE calmers work best when the rest of the diet has no artificial magnesium added to it. Contact us for a free diet review. This is a FREE service. CLICK HERE. Have a read of this article on diets with no added magnesium. We have loads of other magnesium and chelated calcium resources in our articles section.

We thrive on customer feedback (good or bad) and in the first year of adding tyrosine to CCC we have five negative responses (in UK and USA combined). So these are a tiny number of cases. However the commonality is that they all have either EMS or IR or PSSM. We will be doing our best to find out more about this (none of our competitors seem to have highlighted an issue and there is no equine literature to guide us but there are hints that tyrosine and diabetic humans don't go together that well. That is enough for us to make available a tyrosine free version of CCC (select from the drop down box on ordering. Our product specifically for EMS and Cushings horses (LAM Essentials) has always been tyrosine free.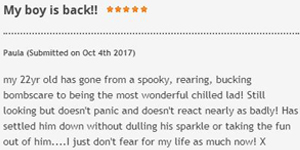 How to use CCC
If your horse has not used one of our products containing chelated calcium before, or hasn't had chelated calcium for over two weeks, a Starter Pack is required. Only feed 5 days a week. The 4 lb pack option will last a 1,200lb horse about 5 weeks, use the whole 4 lb pack to load the horse on CCC. Once loaded the 4 lb Follow On bag should last the same horse about 14 weeks.
Implications of too much magnesium
Most modern diets contain plenty of magnesium for horses and many contain far too much artificial magnesium sources. Too much magnesium blocks nerve function and can prevent CCC® from working properly. The Cool, Calm & Collected Starter Pack is magnesium free. Email one of our advisors with details of your horse and its diet and we will conduct a free diet review and help you find out what level of artificially added magnesium is in your current diet. We will also help you find what suits your horse best. This is a FREE service. CLICK HERE
Other causes of bad behaviour
Behavior is complex. CCC is ensuring the brain has two key nutrients but it doesn't sedate and it won't overcome behavior issues caused by pain (ulcers, poor saddle fit, back problems etc etc). We are happy to help with some of these issues (if you talk to us) but clearly others are outside our control.
Short magnesium video (5m 41s)
Pack size:

1.8kg (4lb) - This pack will last a 550kg (1200lb) horse approx.5 weeks during the initial loading period. The Free 450g Bonus Follow-on pack will last a 550kg (1200lb) horse approx. 3 weeks during the maintenance period.

CCC STARTER application:

1320lb to 1540lb horse - 1 2/3 scoops, 1100lb to 1320lb horse - 1 1/3 scoops, 880lb to 1100lb horse - 1 1/4 scoops, 660lb to 880lb horse - 1 scoop.

Active ingredients:

Vitamins: D3, B1 (Thiamine), B2 (Riboflavin), B3 (Niacin). Minerals: Calcium (from VCAL)
Reviews
The CCC product has made a marked difference in the attitude of our nervous horse. He is still "himself" but he no longer sees a gremlin behind every bush and his performance has improved significantly!

Excellent results with my horse!

My mare sees ghosts everywhere....she clearly is the watcher of the group and is sure something is going to get her. I have had her on tryptophan, B vitamins and magnesium products that worked somewhat but she had negative results over time. I started her on CCC, and within a month, she is a different horse!!!! She is calm but alert, and does not show signs of being sedated. She performs her work beautifully and listens to my cues. She is a complete joy to ride now!!!!!!

Last ditch effort..so excited ..It's working!

I am so amazed at the difference this product has made for my mare's confidence issues. She is a very sensitive girl and has been easily distracted, unfocused, worried, and would take off at slightest scarey noise, blowing branches on trees..invisible monsters. She still looks, but stays with me..so awesome to finally begin to build my own confidence and a new relationship..

Cool, Calm Collected/Super Product

After just three days I saw a real difference in my 6 year old OTTB. His reactions were BIG, spinning, running, fast walks backwards, etc. After only two weeks he's a new man. Hacking is really going well, working with other horses on the flat is no problem. Very pleased.

Excellent-Results Exceed Expectation

My "Starter" pack was nabbed by Customs and delivery delayed; so I started with the 'follow-on'; now about 3 weeks since received. Even that worked just fine. The supplement is palatable to the horse and he finishes his feed. Formerly on Magnesium for headshaking, he was still spooky and a bit flighty, even nappy/barn-sour. And, the indoor, forget it-that was a deal breaker for him. He is completely different, seems happy and willing, and the quiet mind I knew he had, is now becoming evident, while he is still responsive, and never dull, but he is not explosive. He now can work relaxed and does not seem to always be so tense. Quite literally, he'd be on the verge of an imminent fear-reaction; worried about every corner, every noise. His fear was real, and he was quite difficult as a result. We are cautiously regaining our confidence in the indoor. I am sure whatever imbalance the calcium deficiency or potassium overload set him up for, had his nerve endings raw and the poor boy was on edge! He is markedly different. In addition, it seems to have helped his head-shaking affliction (too early to tell if this is a seasonal cessation, update in the spring, but it does make me wonder if this was the component missing from the other diet changes we made). Very happy I took the chance and bought this for him. This rising 8 yo, who has lost the past 18 months due to his clover/alfalfa intolerance and head-shaking, 16.2hh Thoroughbred, an unbelievably athletic, sensitive horse who can now 'go to work' without the externally motivating distractions or be fearful of his surroundings. Hopeful I will have a useful mind and happy pony under me!

Don't know if it my unconscious change and hope it is working but...while he still is looky and gets a big head he is not as jumpy or bolty. Real riding starts next week...Really optimistic as I have eaten a lot of dirt coming off this horse.

My home bred 6yr old Anglo Arab gelding had been increasingly becoming a bit of an over excited hothead. Nothing nasty but would over boil regularly, not listen to my aids, throw some monumental outbursts when out at competitions. I was really starting to wonder if I'd ever get him to settle his behavior. I contacted Equifeast and relayed my dispair. Firstly they asked me to list the ingredients or all his feeds and calmers. I was advised to stay clear of anything with magnesium as some horses have the opposite of the desired reaction. He started on Cool Calm and Collected starter pack about 4wks ago. I can honestly say that I noticed the change in him immediately. He was more focussed and stopped 'exploding' on me. He has since won 3 classes out showing, 2 reserve champions and has qualified for the Arabian National Championships. Riding Horse & Hack Supreme Championships and Caledonian Championships. Yet he hasn't lost his sparkle. I had stopped competing in Dressage because of his behavior but when the showing season has finished I intend to go back and give it another go. My friends and fellow competitors can't believe the change in my horse, hopefully this is the end of us being the entertainment factor at events

Admittedly, I was skeptical about this product's claims, but I was wrong. It really does work. My gelding is much calmer, and is less reactive. He's still looky, but doesn't overreact like he used to. Riding him has been more pleasant and consistent.

My mare before feeding equifeast was sharp, inattentive, struggled to focus, fiery, argumentative, stubborn 5 year KWPN. She used to rear vertically with absolutely no warning as a tantrum if she was frustrated with something, there was absolutely no negotiating with her, she was going out competing and would score well but would always have tense, or struggles to relax ect After my instructor recommended equifeast, I got in touch and cannot say how impressed I was with the service. They were really friendly and pointed me towards the right product they thought would work for us which was cool, calm and collected. Effie has now been on it for about 4 weeks and I can honestly say what a transformation, we are now able to negotiate, I can ask her to do things without a tantrum and she is on the whole so much more relaxed and focused! We have a test booked in at the end of the month and am hopeful that the tense and relax comments will be a thing of the past! Thank you equifeast!!