The unique calcium horse calmer, for focus and concentration without sedation.
The key active ingredient in Cool, Calm & Collected is chelated calcium which supports normal neurotransmission*, this aids better risk analysis and decision making. This product also contains Tyrosine, an amino acid that serves several important purposes in the body including the creation of dopamine. Tyrosine only has a relatively short term effect and is only valuable if the horse risks becoming tyrosine deficient due to stress. See below for information about tyrosine and horses with EMS, IR or PSSM.
Cool, Calm & Collected behavioral supplement helps with:
Spookiness

Anxiety

Overreacting
The Cool, Calm & Collected Follow On Packs come in varying magnesium levels, if you're unsure which formulation you require Contact Us.
If your horse has not used one of our products containing chelated calcium before, or hasn't had chelated calcium for over two weeks, a Starter Pack is required.
We thrive on customer feedback (good or bad) and in the first year of adding tyrosine to CCC we have five negative responses (in UK and USA combined). So these are a tiny number of cases. However the commonality is that they all have either EMS or IR or PSSM. We will be doing our best to find out more about this (none of our competitors seem to have highlighted an issue and there is no equine literature to guide us but there are hints that tyrosine and diabetic humans don't go together that well. That is enough for us to make available a tyrosine free version of CCC (select from the drop down box on ordering. Our product specifically for EMS and Cushings horses (LAM Essentials) has always been tyrosine free.

Short magnesium video (5m 41s)
Contains: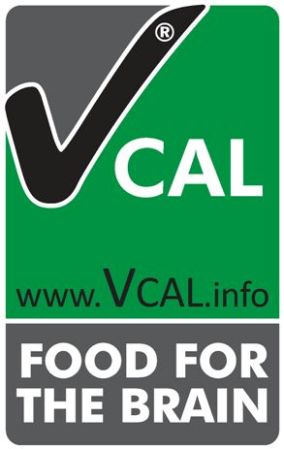 Pack size:

1.8kg (4lb) - This pack will last a 550kg (1200lb) horse approx.14 weeks.

Cool, Calm & Collected MagFREE FOLLOW ON application:

1320lb to 1540lb horse - 1/2 scoop, 1100lb to 1320lb horse - 1/2 scoop, 880lb to 1100lb horse - 1/3 scoop, 660lb to 880lb horse - 1/4 scoop.

Cool, Calm & Collected Lo-Mag FOLLOW ON application:

1320lb to 1540lb horse - 3/4 scoop, 1100lb to 1320lb horse - 2/3 scoop, 880lb to 1100lb horse - 1/2 scoop, 660lb to 880lb horse - 1/3 scoop.

Active ingredients:

Vitamins: D3, B1 (Thiamine), B2 (Riboflavin), B3 (Niacin). Minerals: Calcium (from VCAL). Lo-Mag formulation contains magnesium.
Reviews
Our dressage horse was very edgy and erratic, very nervous. We started him on CCC and saw a change pretty quickly. We have continued this regimen for about two years now and he is continually improving in his performance. He's rarely edgy or too excited to listen to the rider. His remaining issue is that we have to take another horse he knows to shows or he gets really frantic.

My horse's behaviour all of a sudden changed one autumn. He went from being a cool dude to almost dangerous to ride...spooking at everything, a quivering ball of nerves. I remember being at my wits end, not knowing what to do about it. One night, when I couldn't sleep, I happened to see a photo of my old riding facility. When I zoomed in, I found a photo of a woman I'd known years before, and a testimonial about this product. Naturally, I contacted her immediately...my first order came a couple weeks later. Within two days, he was back to his old self!! It was remarkable. I have kept him on the maintenance ever since, and he's a joy to ride again!

This supplement is helping my horse. He can still get pretty stressed about some situations but he is calmer about everyday things. He is much more loving, in your pocket kind of guy, which before starting this he wasn't interested in interacting with people. He according to my veterinarian developed an ulcer probably from stress and my veterinarian suggested keeping him on it to help him be not so stressed.

I purchased an 8 YO Dutch gelding (Dressage) that was extremely sensitive and highly reactive. With proper training many of his bad behaviors (rearing, spinning, kicking, shying, bolting and kicking under saddle) have lessened to a great degree. He was still reactive although quickly controllable within a jump or two. Within one week, I noticed that this product seemed to allowed his brain time to absorb, process and make a decision to react to unknown stimuli rather than blindly assuming every unknown is heralding the coming of a predator. After three months on the product, my hot reactive dressage horse was lead horse on a trail ride - crossing streams, wooden bridges with deer and turkey unexpectantly popping out on the trail. He only flinched once and would wait patiently at a standstill for others to trot and canter up behind him. What a trooper!

my mare used to spook at everything and nothing. Would spook at just standing in the stall. CCC totally changed her to a more confident horse and I'm starting to connect with her which I never could do before CCC. She is a happier calm horse now. The fine tune helped her to be less tense. I tired everything before this with little or no lasting results.

The only thing.that works

My.spooky mare is now calm focused and trainable she will never be bomb proof but now it stateless in place and is easily.brought back.into focus, I had tried many other products CCC was My last hope, so happy with the results, my mare is now happy too Thank you!!!

The product itself I'm happy with, but the Ziploc bags that package it in are a bad design choice: the Ziploc is super small.and is very difficult to reseal. I thought maybe the first bag I got was a dud, but the second one was useless too.

This product made a huge difference !

After years of trying every horse antacid available, this product works for my spooky horse! He is finally able to show Eventing ! Before, he was so scared of everything we could not take him off the property. He even spooked daily in his own arena! Thank to those who created this product, Calm, Cool and Collected!

I *think* this is helping, but not completely sure. Magic has a ton of PTSD from previous abuse and has been on many different types of calming supplements. Some seem to help , some do nothing. This seems to help enough that I will keep him on it, but I would not go so far as to call it a miraculous change.